Tap photo to enlarge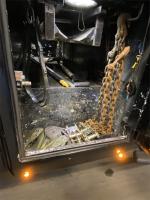 RAM 5500 HD SLT
$88,900
All Wreckers
VIN: 3C7WRMBL2NG358138
Year: 2022
Make: RAM
Model: 5500 HD SLT
Availability: Available
Stock Number: 100102031
Status: Used

A/C Condition Excellent
Air Conditioning Yes
Axle Single
Cab Standard Cab
Collisionmitigationsystem No
Color Black
Cruise Control Yes
Differential Lock No
Driver Position Left Hand Drive
Dual Breathers No
Dual Exhuast No
Dually Yes
Engine CUMMINS
Engine Arrangement IN-LINE
Engine Brake No
Engine Size 6.7
EnginesizeUnit Engine Liter
Exhaust Brake Yes
Front Axle Lbs 7000
FrontaxlelbsUnit Pound
Fuel Type Diesel
Glider Kit No
Gross Vehicle Weight 19500
Gross Vehicle Weight Rating Class 5
GrossvehicleweightUnit Pound
Hassleeper No
Headache Rack No
Heated Mirror Yes
Horsepower 360
HorsepowerUnit Horsepower
Hours Meter Inaccurate 0
Mileage 48193
MileageUnit Mile
Navigation No
Num Speeds 6 Spd
Overdrive Yes
Overhaul No
Power Locks Yes
Power Steering Yes
Power Windows Both
Ratio 4.10
Rear Axle Lbs 13500
RearaxlelbsUnit Pound
Suspension Spring
Tilt Telescope Yes
Tires 225/70 19.5
Transmanufacturer AISIN
Transmission Automatic
Turbo Yes
Wet Kit No
Wheel Base 168
WheelbaseUnit Inch
Wheels Steel Disc

6.7L 360HP @ 3,000 rpm, 750 lb-ft. 6 Speed Auto. Engine Block Heater, A/C, AM/FM/CD, Bluetooth Cruise Control, Power Windows, Power Door Locks w/ Keyless Entry, 40-20-40 Split Bench Seat, ,19,500 GVWR, Chrome Cab Steps, 22 Gallon Fuel Tank, 225/70R19.5 Tires w/ 19.5 Aluminum wheels. Engine Retarder, (originally purchased with; Basic Warranty: 3 yr / 36k miles, Engine Warranty: 5 yr/100K )4.10 Rear Axle Ratio. Low Deflection package. Back up Camera 84 CA.

inspection notes. front tires 26/32 rear tires 16/32 16/32 20/32 20/32. Brakes 50% all

Chevron model 408 Rebel. 8-ton Hydraulic boom. Single 9,000lb planetary winches with wide drums. (Warn). 100' 3/8" cable per Drum. 86" wide body. Dual side entry boxes. FMVS 108 Lamp Group. Dual snatch block anchors. High-volume direct mount pump. Mudflap Brackets, Chain pockets. Safety chains. 4,000lb Auto Gripp II crossbar* Tow light plug. Straps and ratchets for wheel lift. Cable Tensioners Installed. Tow Plug., Body serial # 0408

24" Tunnel tool box
Hanging Dolly bar brackets
Aluminum tubular Pylon
Fold down light bar bracket
Juctice light bar
Clutch pump
Inside controls for Wheel lift
Upper L.E.D. work lights
Lower LED work lights
Rear Strobes LED
Front Strobes LED
Triangle kit
Front Jumpstart
25' Cables
Fuel cans = in brackets on deck
Trash cans - brackets on deck
LED body lights
Bullet lights bottom of tunnel
interior tool box lights
3" Fender flares.