Tap photo to enlarge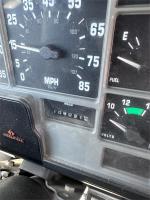 INTERNATIONAL 4700
$32,900
All Wreckers
VIN: 1HTSCAAMXWH538872
Year: 1998
Make: INTERNATIONAL
Model: 4700
Availability: Available
Stock Number: 1001019
Status: Used

Air Conditioning Yes
Cab Standard Cab
Collisionmitigationsystem No
Color White
Differential Lock No
Dot Yes
Drive 4x2
Driver Position Left Hand Drive
Dual Breathers No
Dual Exhuast No
Engine INTERNATIONAL
Engine Size 7.63637
Engine Type DT466E
EnginesizeUnit Engine Liter
Exhaust Brake Yes
Front Axle Lbs 8000
FrontaxlelbsUnit Pound
Fuel Type Diesel
Gross Vehicle Weight 23500
Gross Vehicle Weight Rating Class 6
GrossvehicleweightUnit Pound
Headache Rack No
Heated Mirror No
Horsepower 210
HorsepowerUnit Horsepower
Hours Meter Inaccurate 0
Mileage 108000
MileageUnit Mile
Num Speeds 6 Spd
Power Steering Yes
Rear Axle Lbs 15500
RearaxlelbsUnit Pound
Rebuilttitle No
Suspension Spring
Tires 245/70R19.5
Transmanufacturer SPICER
Transmission Manual
Transmission Rebuilt No
Turbo Yes
Wet Kit Yes
Wheels All Steel

1998 INTERNATIONAL 4700. DT466E, 6SPD TRANSMISSION.

ORIGINAL OWNER WITH LOW MILES.

JERR-DAN HPL-60 TWIN LINE WRECKER DUAL 12,000 LB WINCH. 12 TON BOOM. 108" CAB TO AXLE. 48" TUNNEL TOOLBOX. DOLLIES. WORK LIGHTS. EMERGENCY AMBER LIGHT BAR. FUEL CANS. TRUCK TOW BAR. UNDER LIFT L-ARM 5000 LB. FORKS 6000LB.